Earlier this month, President Joe Biden and Vice President Kamala Harris hosted a celebration of APA Heritage Month in the Rose Garden at the White House. I was honored to join APA leaders doing critical work for our diverse communities across the country, and it was wonderful to see old friends and make new acquaintances.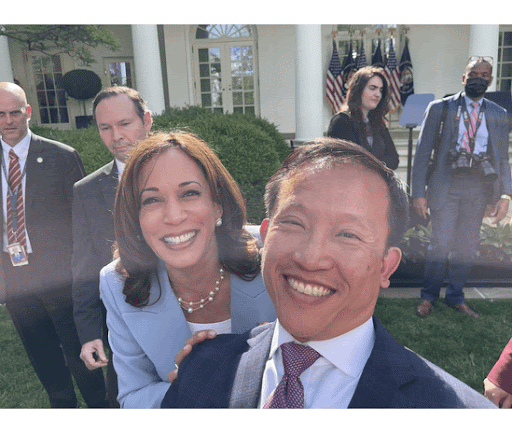 As part of my visit to Washington DC, I participated in discussions on Capitol Hill and at the White House on how to tackle anti-Asian hate — which was unfortunately fueled by President Biden's predecessor. We talked about our shared commitment to hold perpetrators accountable, support survivors of crime, and ensure our communities have the resources and protections they need to thrive.
I couldn't imagine a better way to commemorate APA Heritage Month than by spending time with inspiring APA leaders from across the country — including my good friends Boston Mayor Michelle Wu and New York Assemblymember Yuh-Line Niou, who I've worked with closely in the national fight against anti-Asian hate.
It was also wonderful to say hello to a friend I've known since our days together in the San Francisco District Attorney's Office. I am so proud of our first Vice President of Asian descent — Kamala Harris. Quoting the late Secretary Norm Mineta, she reminded us "if we act together, then we are strong enough to withstand any evil, internal or external, that threatens to unravel this beautiful tapestry that is America."
As your City Attorney, I will continue to stand up for our APA communities in San Francisco and California, and work in partnership with APA leaders across the country to do the same in every community.
As we close out APA Heritage Month, I'm joining the Second Gentleman Douglas Emhoff, U.S. Senator Tammy Duckworth, the chair of the AAPI Caucus of the Democratic National Committee, media personalities, and others in a virtual AAPI Rising celebration of the accomplishments of our diverse communities across America. Visit this link to watch the DNC's AAPI Rising celebration.